Home

Blog
Blog
| | | |
| --- | --- | --- |
| von Bertalanffy - General System Theory | | |
Sunday, 07 May 2006
This is the revised edition of von Bertalanffy recollection of thoughts on General Systems Theory. This book gathers a collection of previous publications on the topic of GST. These publications address the potentiality of such a theory in science at large but, specifically, it is more focused on the role it can play in the biological sciences.

General Systems Theory Revised Edition
Foundations, Development, Applications
Lodwig von Bertalanffy
George Braziller
295 pages
1969
ISBN 0-8076-0453-4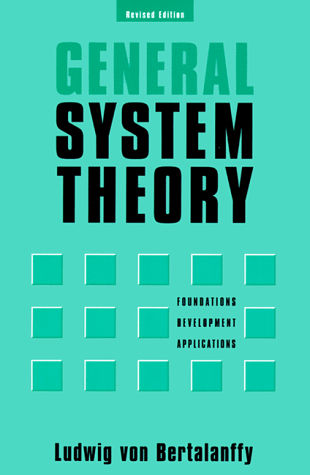 The book describes the motivations and main topics of GST and addresses the role it can play in a collection of domains as a general scaffolding for unification and holism.
This is a very readable and interesting book that must be put in the historical perspective to understand its motivations and the reasons behind its limited impact beyond the small circles of biological cybernetics.
The book does not provide a GST -at least understood in the engineering sense of "theory"- but just discuss, repetitively, some of the core topics of such a theory. While the book includes concrete mathematical examples of systems models, they are limited to small biological phenomena. Precision is lacking at the level of the high abstractions that would constitute the basement of a GST.
The book shall be read for its motivational value and for setting an opening into a roadmap towards a true GST.
Value for time: 7
Main value: Research, Motivational
Last Updated ( Saturday, 20 October 2012 )
Read more...
| | | |
| --- | --- | --- |
| Control of Complex Systems | | |
Sunday, 07 May 2006
Karl Astrom, Pedro Albertos, Mogens Blanke, Alberto Isidori, Walter Schaufelberger and Ricardo Sanz
Springer
494 pages
2000
ISBN 1852333243

This is the final report of the ESF funded european project COSY. A collection of tutorials and research articles from the heterogeneous field of control of complex systems. The book is organised in four tracks: learning control, fault-tolerant control, non-linear control and control system integration.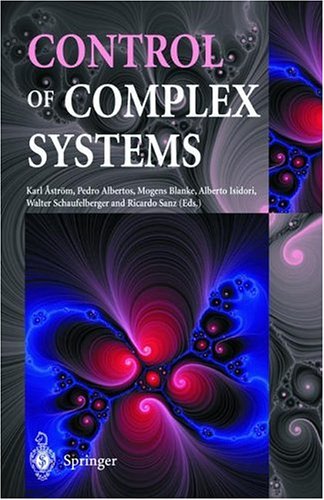 The world of artificial systems is reaching hitherto undreamed-of levels of complexity. Surface traffic, electricity distribution, mobile communications, etc., demonstrate that problems are arising that are beyond classical scientific or engineering knowledge. In order that our ability to control such systems should not be hindered by lack of comprehension, there is an on-going effort to understand them.This book is an example of the types of approach that European researchers are using to tackle problems derived from systems' complexity. It has grown out of activities in the Control of Complex Systems (COSY) research program the goals of which are to promote multi-disciplinary activity leading to a deeper understanding and further development of control technologies for complex systems and if possible, to develop the theory underlying such systems. The material in this book represents a selection of the results of the COSY program and is organised as a collection of essays of varying nature: surveys of essential areas, discussion of specific problems, case studies, and benchmark problems.Topics covered include:Modelling complex physical systems;Passivity-based control of non-linea Complex systems appear in many different fields and for this reason this book should be of interest to scientists, researchers and industrial engineers with a broad spectrum of experience.
Last Updated ( Monday, 26 June 2006 )
| | | |
| --- | --- | --- |
| Artificial Consciousness | | |
Sunday, 07 May 2006
Antonio Chella and Riccardo Manzotti
Inprint Academic
250 pages
2007
ISBN 1845400704

This book is the final product of a symposium held in Sicily in 2005. An interdisciplinary work, focused on the topic of artificial consciousness: from neuroscience to artificial intelligence, from bioengineering to robotics.
Our contribution to the book is a chapter titled A Rationale and Vision for Machine Consciousness in Complex Controllers that is co-authored by Ricardo Sanz, Ignacio López and Julita Bermejo-Alonso (two of my PhD Students). Get a preprint of this chapter here (PDF, 1.24 MB).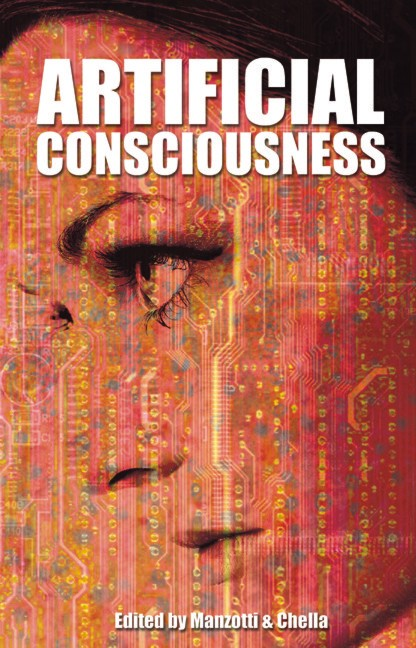 It provides an overview on the current state of the art of research in the field of artificial consciousness and includes extended and revised versions of the papers presented at the International Workshop on 'Artificial Consciousness', held in November 2005 at Agrigento (Italy).
Contributors
Vincenzo Tagliasco, John G. Taylor, Tom Ziemke, Igor Aleksander, Helen Morton, Andrea Lavazza, Salvatore Gaglio, Maurizio Cardaci, Antonella D'Amico, Barbara Caci, Antonio Chella, Ricardo Sanz, Owen Holland, Riccardo Manzotti, Domenico Parisi, Alberto Faro, Daniela Giordano, Piero Morasso, Peter Farleigh
Last Updated ( Monday, 30 July 2007 )
| | | |
| --- | --- | --- |
| Why read? | | |
Sunday, 07 May 2006
There are several conclusions (or just changes of point of view?) from the perspective of the cognitive sciences regarding the process of knowledge acquisition by reading.
Readers don't get but construct meanings
This is of special relevance to us doe to the nature of the research work we're performing.
Meaning is not just in the words on the page. The reader constructs meaning by making inferences and interpretations in his own mental context, his model of the world.
Reading researchers believe that information is stored in long-term memory in organized "knowledge structures." The essence of learning is linking new information to prior knowledge about the topic. This is a form of model integration.
How well a reader constructs meaning depends in part on metacognition, the reader's ability to think about and control the learning process (i.e., to plan, monitor comprehension, and revise the use of strategies and comprehension); and attribution, beliefs about the relationship among performance, effort, and responsibility.
Reading and writing are integrally related. That is, reading and writing have many characteristics in common. Also, readers increase their comprehension by writing, and reading about the topic improves writing performance.
Collaborative learning is a powerful approach for teaching and learning. The goal of collaborative learning is to establish a community of learners in which students are able to generate questions and discuss ideas freely with the teacher and each other. Students often engage in teaching roles to help other students learn and to take responsibility for learning. This approach involves new roles for teachers. We have tried to provide some support for this in our new courseware site.
To get more details on research about reading processes, visit Knuth & Jones web page What Does Research Say About Reading?.
Last Updated ( Sunday, 18 November 2007 )
Read more...
| | | |
| --- | --- | --- |
| Mind building on culture | | |
Thursday, 27 April 2006
To what extent can ideas be owned and exploited by individuals?
To what extent should intellectual work be protected against reuse?
"No one can do to Disney, Inc. what Walt Disney did to the Brothers Grimm"
A comment from Lawrence Lessig at OSCOM 2002 on the Sonny Bono Copyright Term Extension Act (aka Mickey Mouse Protection Act) shows the irrationality of protecting new ideas when they are based on past ideas.
What is worse is the fact that there are no ideas that appear from nowhere, without any relation with thoughts done by others in the past. It is well know the quotation from Isaac Newton about the shoulders of giants. What is not so well known is the sociobiological nature of the human mind. We are what we are because we grow our minds upon the ideas of our ancestors.
Following the policy of GNU or Creative Commons licenses, new ideas should be public domain as they are necessarily based on former ideas implicitly released under these principles.
So there is no biological possibility of having ownership of ideas.
Don't think of making money from your ideas, think of being a giant !
Last Updated ( Sunday, 18 November 2007 )
| | | |
| --- | --- | --- |
| CORBA 101 | | |
| | | |
| --- | --- | --- |
| Cognitive Architectures | | |
<< Start
< Prev
1
2
3
4
5
6
7
Next >
End >>
Results 66 - 78 of 83