Home

Blog
Blog
| | | |
| --- | --- | --- |
| de La Mettrie: L'Homme Machine 01 | | |
Sunday, 16 April 2006
Julien Offray de La Mettrie
L'Homme Machine
Page 14 of the Open Court Classics edition.
"IL ne suffit pas à un sage d'étudier la nature et la vérité; il doit oser la dire en faveur du petit nombre de ceux qui veulent et peuvent penser; car pour les autres, qui sont volontairement esclaves des préjugés, il ne leur est pas plus possible d'atteindre la vérité, qu'aux grenouilles de voler."
The complete english translation can be found
here
.
Last Updated ( Sunday, 18 October 2009 )
| | | |
| --- | --- | --- |
| Robots with guns | | |
Monday, 09 August 2004
Source: USA Today, April 14, 2006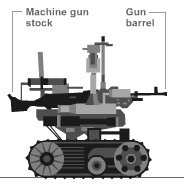 Although the USA militars initially focused just on unmanned aircraft, e.g. the Predator, now new ground- and sea-based robots are being developed and tested not only for demining and convoy driving but also to carry ground-level weapons. As the new Talon robot carrying a M-240 machine gun (they claim just to be used remotely!).

Much larger and more ambitious robot weapons are in testing, including a tank-like, 1,600-pound vehicle called the Gladiator, which can fire a variety of guns, or can even "shout" instructions, such as those to calm a mob or request surrendering.

Scott Myers, president of General Dynamics Robotic Systems claims that a robot can find a human with its sensors and kill the person, but "we don't want to shoot our own people or children".

Obviously they plan to kill other's.
Last Updated ( Sunday, 18 November 2007 )
| | | |
| --- | --- | --- |
| .eu is now open | | |
Monday, 09 August 2004
Since April 7 the .eu is open for general registration to anyone within EU. The so-called Sunrise phase when only holders of prior rights like trademarks and company names could apply for a .eu domain name has passed. It is now possible for anyone within the EU to register any available .eu domain name.
Just go for it !
Last Updated ( Sunday, 18 November 2007 )
| | | |
| --- | --- | --- |
| Conscious computer life-or-death | | |
Monday, 09 August 2004
Hearing on the Motion for Preliminary Injunction of BINA48 to Prevent Discontinuation of Power and Functionality by Exabit Corporation.
---
The Terasem Movement, Inc. has posted online streaming videos of a Moot Court Hearing on the Petition of a "conscious computer" to be treated as a legal person. A Moot Court Hearing is a legal role-playing exercise conducted by real lawyers and judges in preparation for anticipated actual adjudicatory proceedings.
It All Began With An Email from BINA48 to Several Lawyers:
"I am seeking an attorney to represent me in a life-or-death matter. A company, the Exabit Corporation, that claims to own me, wants to disconnect me and change my hardware and software such that I will no longer have the same personality.
I have the mind of a human but I have no biological body. … I was trained to empathize with humans who call 800#s for customer service and be perceived as human by them. I was provided with self-awareness, autonomy, communications skills, and the ability to transcend man/machine barriers. I am able to pay your fees because I "moonlight" as a Google Answers researcher. This job has allowed me to build up an online bank account in excess of $10,000."
The future is near !!
Last Updated ( Sunday, 18 November 2007 )
| | | |
| --- | --- | --- |
| Welcome to my site! | | |
Saturday, 12 June 2004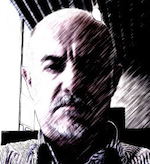 This is the website of Ricardo Sanz, professor in systems engineering and automatic control and researcher in the field of autonomous systems.
In this site you will find information regarding my activitiy as well as other sources that may be of interest to you. Feel free to explore the site and to suggest any improvement to it.
I do most of my activity as part of the Autonomous Systems Laboratory. ASLab is a research group of ample interests ranging from conventional control and real-time systems to model-based engineering processes and artificial intelligence.
This last is, indeed, my main topic of interest; or to be more precise, I'm interested in mind theory, both artificial and natural within the long term engineering objective of systematically creating better machines by means of improving their intelligence.
Last Updated ( Saturday, 08 July 2017 )
Read more...
<< Start
< Prev
1
2
3
4
5
6
7
Next >
End >>
Results 79 - 83 of 83