Home

Readings
Readings
| | | |
| --- | --- | --- |
| Andrew - A Missing Link in Cybernetics | | |
Tuesday, 15 November 2011
Andrew captures a life-long effort in all the grounds of AI. The title refers to the distance between the discrete views of most AI and the continuous nature of most controllers in nature and artificiality. It is this link between continuity and discretion what is necessary to work out so solve the riddle of real, conscious AI.

A Missing Link in Cybernetics
Logic and Continuity
Alex M. Andrew
Springer
352 pages
2009
ISBN 978-0-387-75163-4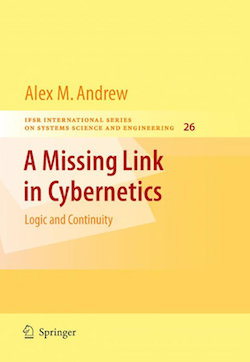 Value for time: 7
Main value: Get informed about the history of AI and cybernetics.
Last Updated ( Saturday, 14 January 2012 )
| | | |
| --- | --- | --- |
| Goldacre - Bad Science | | |
Monday, 10 September 2007
Goldacre is a doctor -a medic- worried about the bad practices used in the selling of products around the world of health.

To talk about the book let's use the words of The Independent:
'From an expert with a mail-order PhD to debunking the myths of homeopathy, Ben Goldacre talking the reader through some notable cases and shows how to you don't need a science degree to spot "bad science" yourself.'
This book was selected as Book of the Year by this newspaper.

Bad Science
Ben Goldacre
Fourth Estate Ltd
352 pages
2008
ISBN 000728487X

A book written by a real doctor involved in the public health system offers a solid argumentarium in favor of an increase in scientific rigour in all aspects of health. From miracle cures, to nutrition supplements and vaccine scaring to the concerns about quality in the public communication of science by the media, Goldacre offers rock-solid data, being a champion of evidence-based practices.
For aditional information visit Goldacre web site on the topic: BadScience.net
Value for time: 9
Main value: Get informed about what's real bad
Last Updated ( Sunday, 15 November 2009 )
| | | |
| --- | --- | --- |
| Searle - Mind | | |
Monday, 10 September 2007
This is a simple well written introduction to the field of philosophy of mind. Searle addresses the major issues trying to avoid philosophic jargon as much as possible. I am grateful for that.

Mind
A Brief Introduction
John Searle
Oxford University Press
326 pages
2005
ISBN 0-195-15733-8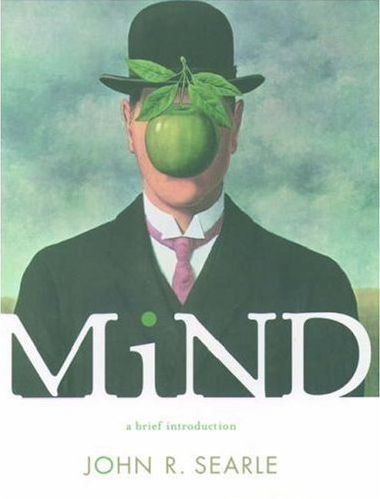 Unless you are already an expert, read it. The grassroots approach used by Searle -state the facts, then philosophize- is very valuable. Obviously at some points he gets lost into the philosophical forest or becomes excessively self assertive. We can forgive that for the value of reading his very clear analisys and, more specifically, text.
Value for time: 9
Main value: Field roadmap
Last Updated ( Monday, 10 December 2007 )
| | | |
| --- | --- | --- |
| Edelman - Second Nature | | |
Monday, 10 September 2007
This is a quick and fast summary of Gerald Edelman's perspective on the nature of consciousness as understood from the perspective of his neural darwinism approach.

Second Nature
Brain Science and Human knowledge
Gerald Edelman
Yale University Press
203 pages
2006
ISBN 0-300-12039-7

This is a small, very readable account of an approach to epistemology as grounded in the structure of neural tissue. Edelman calls it a brain-based epistemology.
Edelman argues for taking new perspectives on how we acquire knowledge based on the improved understanding of brain operation coming from recent neuroscience. At the end, the book focuses on the possibility of exploring the weird phenomenon of consciousness - the very second nature of humans.
He also addresses the issue raised by Snow and others of the divorce between science and the humanities and their respective views of the mental world. Edelman previews differences getting dissolved -much in the line of Wilson's consilience- by considering their grounding in brain operation.
He also summarily describes their research on brain-based devices that may -somehow- become conscious if properly based on the right, non-computational, organisation.
Value for time: 9
Main value: Personal point of view
Last Updated ( Sunday, 18 November 2007 )
| | | |
| --- | --- | --- |
| Astrom - Control of Complex Systems | | |
Sunday, 07 May 2006
This is the final report of the ESF funded european project COSY. A collection of tutorials and research articles from the heterogeneous field of control of complex systems. The book is organised in four tracks: learning control, fault-tolerant control, non-linear control and control system integration.

Control of Complex Systems
Karl Astrom, Pedro Albertos, Mogens Blanke, Alberto Isidori, Walter Schaufelberger and Ricardo Sanz
Springer
494 pages
2000
ISBN 1852333243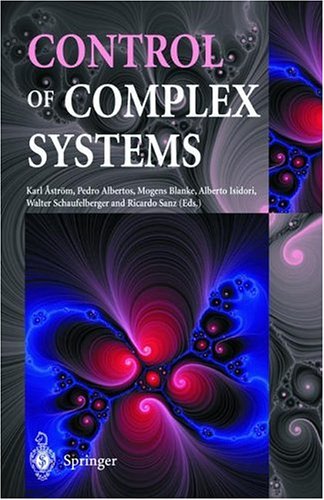 The world of artificial systems is reaching hitherto undreamed-of levels of complexity. Surface traffic, electricity distribution, mobile communications, etc., demonstrate that problems are arising that are beyond classical scientific or engineering knowledge. In order that our ability to control such systems should not be hindered by lack of comprehension, there is an on-going effort to understand them.This book is an example of the types of approach that European researchers are using to tackle problems derived from systems' complexity. It has grown out of activities in the Control of Complex Systems (COSY) research program the goals of which are to promote multi-disciplinary activity leading to a deeper understanding and further development of control technologies for complex systems and if possible, to develop the theory underlying such systems. The material in this book represents a selection of the results of the COSY program and is organised as a collection of essays of varying nature: surveys of essential areas, discussion of specific problems, case studies, and benchmark problems.Topics covered include:Modelling complex physical systems;Passivity-based control of non-linea Complex systems appear in many different fields and for this reason this book should be of interest to scientists, researchers and industrial engineers with a broad spectrum of experience.
Value for time: 8
Main value: Perspective
Last Updated ( Monday, 26 June 2006 )
<< Start
< Prev
1
2
3
Next >
End >>
Results 10 - 18 of 19