Home

Readings

Weinberg - An Introduction to General Systems Theory
| | | |
| --- | --- | --- |
| Weinberg - An Introduction to General Systems Theory | | |
Friday, 13 January 2012
Weinberg offers an introduction to the general systems way of thinking. It is more a manual on "how to think" than an introduction to the theoretical analysis of general systems. It offers, however, a collection of theoretical priciples that may be very useful in the formulation of theories about systems.

The book is indeed an epistemic manual: how to create mental models about systems based on general considerations about systemhood and our knowledge. This may prove very useful in avoiding traps in system modeling.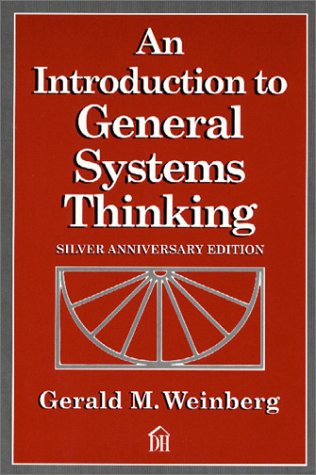 An Introduction to General Systems Theory
Silver Anniversary Edition
Gerald M. Weinberg
Dorset House
279 pages
1975-2001
ISBN 0932633498


Value for time: 7
Main value: Get insights on how to think about specifici systems from a general perspective.
Last Updated ( Sunday, 20 May 2012 )